Battle for the Galaxy
Battle for the Galaxy
Battle for the Galaxy: Science fiction MMO strategy game Battle for the Galaxy

Votes
This Week4
Last Week10
This Year219
Game Website: battleforthegalaxy.com
Rating:--
Theme:sci-fi
Category:strategy mmo
Content Rating:Teen

bftg.online

@amtgames
No download required, free to play
Play Battle for the Galaxy
Vote for Battle for the Galaxy
About this game
Commander, lets land on this planet, we can build an outpost there and gather resources.
Besides, we need to regroup our army for future attacks.
CONTROLS:
? Use mouse and follow in-game tutorial to understand game mechanics.
GAMEPLAY:
? Free to play massively multiplayer strategy game
? Leagues and Tournaments
? Stunning 3D art, visual effects and sound
? 20+ buildings to construct and upgrade as you transform your small outpost into a mighty planetary fortress
? Recruit an army of Space Marines, Rocket Troopers, Giant Mechs, and Battle Cruisers. Each of the 8 units have unique attack abilities and multiple upgrades.
? Create Corporations with other players
? Intense battles in clan wars
Please give us a review and share a game if you like it!
TROUBLESHOOTING:
If you don't see the game at all or stuck at loading:
? Check if JavaScript is up to date and enabled in browser.
? Check your AdBlock and antivirus software, try deactivating in on, if you have some.
? Try reloading the page and try a different browser (Chrome).
For help write to
[email protected]
Tags
PirateQuest - Pirate game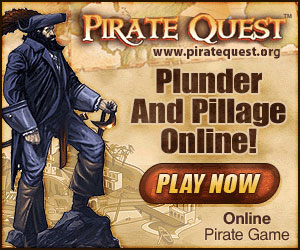 In Pirate Quest you will explore the vast reaches of the Caribbean, pillaging and plundering with the likes of thousands of other seafaring blokes and wenches. With colorful, interactive graphics, text-based RPGs have never felt so alive before! Grab yer rum and prepare to set sail on an adventure from which you will never want to return!