Roboid Incorporated
Roboid Incorporated
Roboid Incorporated: A mobile-friendly sci-fi RPG featuring robots!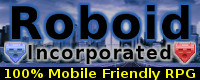 Votes
This Week13
Last Week12
This Year412
Game Website: roboid.com
Rating:100
Theme:sci-fi adventure the corp vs the anarchists
Category:adventure
Content Rating:Teen
Launch Date:2014

SilverKeyGames
No download required, free to play
Play Roboid Incorporated
Vote for Roboid Incorporated
About this game
Roboid Incorporated is a free, mobile browser-based massively multiplayer online text game. It is an RPG with a rich story and mission system. As a new citizen of a city destroyed by war, you find yourself immersed in the popular sport of combat bot fighting. Trainers buy and customize combat robots sold primarily by the mysterious mega corp Roboid Incorporated. Find out what Roboid is really up to while choosing to fight or promote anarchy in this post-apocalyptic world.
Tags
PirateQuest - Pirate game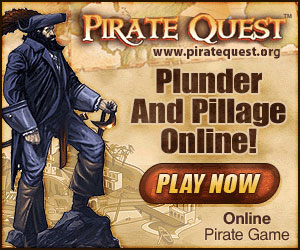 In Pirate Quest you will explore the vast reaches of the Caribbean, pillaging and plundering with the likes of thousands of other seafaring blokes and wenches. With colorful, interactive graphics, text-based RPGs have never felt so alive before! Grab yer rum and prepare to set sail on an adventure from which you will never want to return!