Prison Struggle 2: Parole Denied
Prison Struggle 2: Parole Denied
Prison Struggle 2: Parole Denied: Prison Just Got a Whole Lot Worse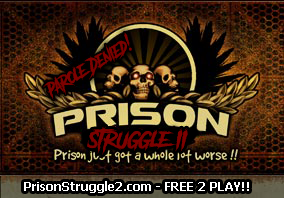 Votes
This Week6
Last Week12
This Year52
Game Website: prisonstruggle2.com
Rating:81
Theme:prison mafia
Category:browser game
Content Rating:Teen
Launch Date:2019

prisonstruggle.mmo

@prisonstruggle
No download required, free to play
Play Prison Struggle 2: Parole Denied
Vote for Prison Struggle 2: Parole Denied
About this game
[massive multiplayer online role play game] based on the real inmate life.

You've just been sent down for the second time, and its time to start the struggle of making a name for yourself by dominating the cells on the inside, but still keeping it locked down on the outside world.

You have the ability to murder, mug, join inside gangs, create your own inside gang or just stay as a lone serial killer taking out anyone that comes in your way to the top. You thought it was bad last time?

Prison just got a whole lot worse!!
Tags
User Reviews
98
PorkSammy
2019-11-24
Fantastic game! Very addicting!
85
DX38
2019-10-31
The owners are easy to work with, Game does have some flaws but given time they will get it all to work. Rome wasnt built in a day. But do wish there was more to do in gaining points and money in a faster way then seeming like forced to donate to make them points. But with time Im sure they will make it there. 2 thumbs up for me.
100
Pennywise
2019-10-12
Amazing game! Owners are really nice and it's easy to communicate with them. It shows that they put time and effort into the game and take suggestions all the time from their players. It takes a little bit to start getting into it but once you get the hang of it, you can really grow quick and rise through the ranks. It is NOT a pay to win game, you can be in the top and not spend anything if you have the time and dedication needed to get there. Plus the other players are amazing, I've made a lot of good friends that I talk with every day and it's great! I definitely recommend playing and trying it out for yourself.
100
MoneyBags
2019-09-10
Excellent game, the owners are doing a fantastic job rebuilding ps from the ground up, extremely impressed with the quality of work put into rebuilding the game. as far as the gameplay goes its simple, easy to learn and keeps you entertained for years, trust me on that.
50
Glover Games
2019-05-26
In regards to DAMINK's Review. The game is not using GRPG. It's in fact a base of Mccodes Lite, retooled and highly modded. He was given 3 warnings about spreading slander. "The admin there offered me an illegal copy of it! Not very ethical." I offered him GRPG V1.0 in that I am the lead dev for that version. You can obtain GRPG from me or Github: https://github.com/mink/grpg. I have left my review at 50 out of 100 to not skew my ratings. ~Warden.
21
DAMINK
2019-04-07
Its a default Grgp script with the old prisonstruggle theme on it. Personally i question if the theme was legally obtained! The admin there offered me an illegal copy of it! Not very ethical. I own a copy thankyou for which i PAID! I played it for a few months. Game is full of errors and is unsafe! I warned them but they did not care. Warden is giving away stuff to his staff for him not being active or doing any updates at all. Typos, break away themes, scripts that are throwing errors, components of the game that dont work at all! Gangs dont work, attacking does not work properly. BBcode does not work. I could go on and on and on. Dont believe me register and find out!! If it did not have the old prisonstruggle theme no one would play beyond one day! It really is a poor game. The only reason there are good reviews is because Warden is offering points for those that give a positive review. My id was 157 Or DAMINK by name. Check my id. At the time of posting this i am banned for 360 days for"ignorance". Nothing in the rules to state ignorance is a banable offence. Real reason is i brought up the issues i did here in forums. And gday below to skyman and outlaw.
100
The OUTLAW
2019-02-09
This game is great. Great owners, that are constantly working to bring new features and content to the game. Still new so everyone has a chance to work to the top. Come build a great community and game with us!
100
k4u2s0h
2019-01-23
This game is great,with its super simple user interface. Navigation is a breeze With a layout that is easy to read and understand. Gameplay Is great with speedy an even game flow. Advancing Levels Moves along at pretty good pace (whole lot faster than another game that is similar). Overall A great game if you like to put the Smack down on people while stealing all their loot. Check it Out!
Mobsters United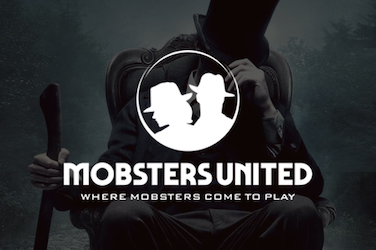 Do you want to re-play Mobsters from Myspace? Here is your chance to get back in the game and join fellow-mobsters to fight for your place!