Scarlet's High-Low
Scarlet's High-Low
Scarlet's High-Low: A Free, Fun & Addictive 'High-Low' Card Game Variant!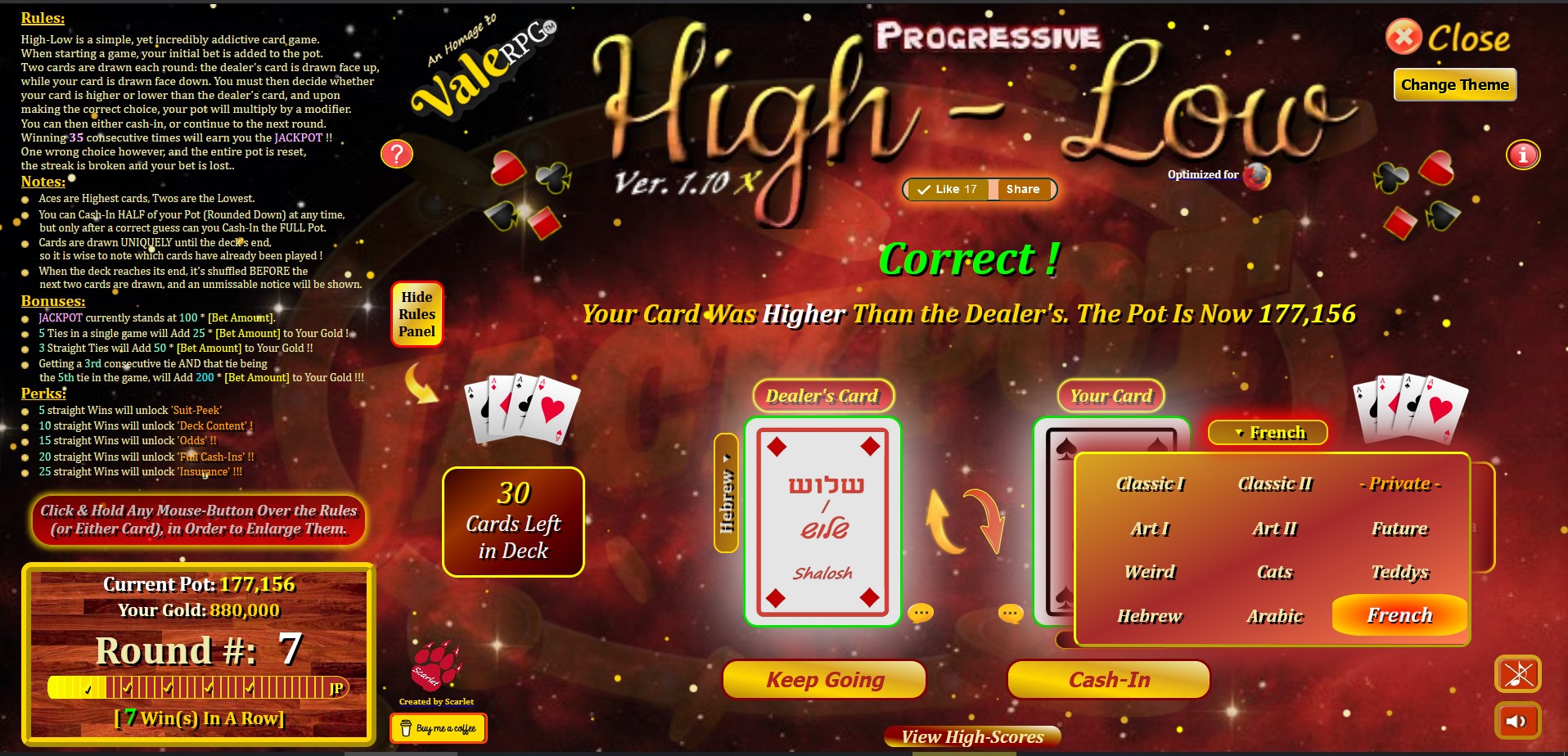 Votes
This Week4
Last Week7
This Year531
Game Website: valerpg.me
Rating:--
Theme:card game - casino
Category:card - board - casino games
Content Rating:0
Launch Date:2021
No download required, free to play
Play Scarlet's High-Low
Vote for Scarlet's High-Low
About this game
NOTE: the Site has moved to ProgressiveHighLow.com !!!

Scarlet's Progressive High-Low

Scarlet's Progressive High-Low (or SPHL), is an incredibly fun, original and unique variant of the classic 'High-Low' cards game.

It's presented here in a simple yet elegant style, giving its own spin to the game's rules & features, making for a surprisingly addictive experience - One that you just might find yourself keeping coming back to for "just a few more tries" :)

The game has many things to offer for nearly anyone, and more than one aspect to enjoying it, and was created with genuine love & passion, so surely (well, hopefully..) there's something appealing there for you as well!

Completely free, constantly updated, straight-forward but sleek design, and requiring no registration, you really must try this online version of the criminally-underrated gem of a game that is 'High-Low'.
Simply enter the game's address or click its link, and start playing, hassle-free. A must-try :)

Features:

- Entirely original rules & features.
- Ability to also play the basic 'Classic' version fo the game (Hardcore Mode).
- Features 12 different Decks !
- Learn how the cards' names are pronounced & written in Four languages! Mix different decks at any point in the game, to any combination you'd like.
- Great for introducing children to the basics of probability !
- Test your skills & luck in your attempts to get the Jackpot, break your own records or have a contest with friends - with a persistent (client-side) scoring system that uses the browser's 'local storage'. How many rounds can YOU go? ;)
- Enjoy dozens of gorgeous cards designed by artists from around the world, with the option to view them all full-sized, in all their glory !!
- 3 'Semi-Transformational' Decks for kids - these cute decks are a mini-game on their own right..
- Efficient pre-loading of the cards' images, ideally eliminating all potential lag!
- God Mode Implemented ! (You'll need some self-control here..)
- Screenshot Gallery Added !
- Custom 403 & 404 pages - one of which is a mini 'Breakout' game itself, along with the very basic coding of the game as a whole - Could perhapds serve as helpful examples/references/ideas/motivation for those begining to code (such as myself)
- 4 Themes to choose from ! (Ok so it's basically one, the 3 others are just me being silly lol)
- Probably some more that don't come to mind at the moment lol..

And with that, dear player, please allow me to invite you to visit my poor attempt at a game! (also my 1st attempt at web coding in general, so be gentle :p)

You can find the game at https://ProgressiveHighLow.com , kindly like & share the site with others if you find it enjoyable, it would mean the world :D

P.S. The game is designed for laptop-sized monitors at least, and is not intended for phones or tablets.

Thank you all very much for your time ! :D

-Scarlet
Tags
high low card game scarlet valerpg best casual addicitve browser

Mobsters United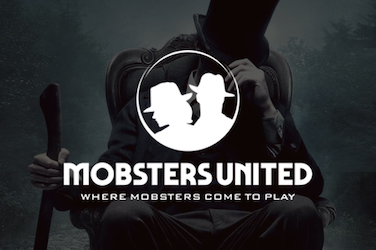 Do you want to re-play Mobsters from Myspace? Here is your chance to get back in the game and join fellow-mobsters to fight for your place!