LunchFight
LunchFight
LunchFight: A food fighting game

Votes
This Week6
Last Week9
This Year85
Game Website: www.lunchfight.com
Rating:--
Category:collecting
Content Rating:Everyone
No download required, free to play
Play LunchFight
Vote for LunchFight
About this game
You are a student at the 'LunchFight School for the Sloppy'. Every day at lunch, a colossal food fight breaks out and you can hurl food at your fellow players and try to dodge the food they throw at you. When you win a food fight game, you earn money that can be used to buy better food, clothes or training. The more you play, the better you get. Do you have what it takes to get to the top?
Tags
PirateQuest - Pirate game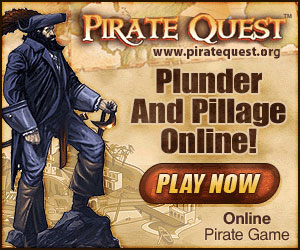 In Pirate Quest you will explore the vast reaches of the Caribbean, pillaging and plundering with the likes of thousands of other seafaring blokes and wenches. With colorful, interactive graphics, text-based RPGs have never felt so alive before! Grab yer rum and prepare to set sail on an adventure from which you will never want to return!